Simularity Discovers German Innovation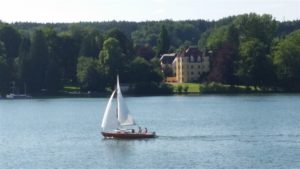 Last week I had the pleasure of being invited to pitch Simularity at a special event held by Siemens management, at their Global Leadership Center in Bavaria, Germany – just south of Munich.
Siemens started as a small workshop in Berlin over 165 years ago and is now a global powerhouse focusing on the areas of electrification, automation and digitalization, with over 340,000 employees generating 2015 revenues of over $75B Euros.
You'd think that a large global player like this would become stagnant and fall behind.
But it's the opposite.
Siemens knows that they need to innovate to stay alive and prosper. This means disrupting their own business models from within and from outside, before someone else does. They are asking themselves "what comes next"?
In fact it's this drive to remain a leader that is part of the reason Siemens recently announced their new venture "Next47", due to launch in October 2016 with $1b in funding.
In addition to Next47, Siemens is regularly scouting for new technology via it's strategically located technology centers and also by inviting disruptive companies to some of its internal meetings.
I had a chance to pitch our solution – in just 5 minutes – and was happy to get some excellent questions that I could then answer during the 5 minute Q&A. Some other notable companies that joined me included:
GridSingularity – a smart startup from Austria focusing on blockchain tech for energy management
3D Industri.es – the next "Google" for 3d Search. Imagine searching for a broken part that you just scanned, and finding a group of suppliers you can instantly contact to order a replacement. I loved the visual presentation given by Seena Rejal, their CEO
Percepto.co – very cool drone technology with onboard smarts to enable autonomous missions. Ariel did a great job with his pitch.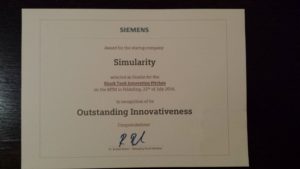 I was thrilled to receive this certificate from Siemens, especially now that we know they appreciate innovation.  I also received a bottle of wine which made it home safely as well 🙂
Cheers,
Peter Koning, Simularity
PS Want to hear our 5 minute pitch? Or maybe you want to chat a bit longer? Contact us today.