Caffeet2015 Reveals Powerful New Renewable Energy Technologies
Simularity was invited to attend Caffeet 2015 (California France Forum on Energy Efficiency Technologies) last week in San Francisco and not only did we attend with 3 of our top team members, our CEO Liz Derr gave two well received presentations focusing on our Simularity AI for Predictive Maintenance in the Energy field. As energy production and use account for 2/3 of the world's greenhouse-gas emissions, it's critical to explore technology that improves efficiencies in this sector.
The content covered during this two day event covered several topics illustrating how much innovation is happening in the global Renewable Energy market, and who's taking action today. Our demo (see below) got lots of attention and all of the other speakers shared valuable material regarding their research, products, and innovative solutions to address the renewable energy challenges.
Our Anomalometer Demo – Anomaly Detection at The Edge of the Network
We were extremely busy in the "Tech Showcase" as a result of our demo. At first the technology on our table looked like a small hardware demo, but what became clear to anyone who stopped by our table was that we have something different…. and very exciting.
Some attendees could not stop staring at what we had – and kept returning with more questions as they realized the potential of our solution for Anomaly Detection and Predictive Analytics using the Simularity AI.
Here's a very brief video of what was happening:
This was a demo of Simularity's AI running on just a 16k microcontroller (under $10) measuring vibration with an accelerometer sensor on an industrial rock tumbler. The Simularity AI learned what's normal in under 15 minutes.
Watch what happens when there's an anomaly (created by dampening the vibrations of the motor with fingers)…
The "Anomalometer" connected to the micro-controller indicates the anomaly. There is no cloud, no network, and no other computer running this demo. Everything is done on the ARM Cortex-based Freescale micro-controller you see attached to the tumbler at the bottom of the screen.
This is clear proof our AI can run on micro-controllers at the edge of the network. The rock tumbler motor could be ANY device – we've attached it to pumps and pipes without modification. The AI can learn what normal is and detect anomalies using any type of sensor data such as vibration, temperature, sound, luminescence, etc. and using multiple sensor streams in combination (such as sound + vibration).
It was exciting to see eyes ignite once people at our table realized that IoT is here – and by simply adding a tiny sensor to some equipment, loading our Simularity AI software into the network (edge, gateway, server – or any combination), the potential for generating valuable data and business decisions is huge… and can apply to not only the energy market but into almost any other vertical.
Innovation in Renewable Energy
Our CEO Liz Derr presented our technology to the attendees in a short "hotseat pitch session" and also explained how our Simularity AI for Predictive Maintenance could easily benefit Operations and Maintenance (O&M) in the Renewable Energy industry – from the questions she received it was obvious that the audience "got it".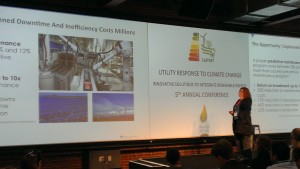 If you want more information on how our software could benefit your business, see link below to contact us today.
Some other excellent presentations were given by:
Thanks again to EDF, the Office for Science and Technology at the Embassy of France in the United States, PRIME and French Tech Hub for organizing such a worthwhile event, and we look forward to continuing the discussions with all the interested investors, customers, and future partners we met at Caffeet 2015.
If you missed this conference and would like to discuss how Simularity can help you extract valuable decisions from IoT data, please contact us today.