Simularity Partners with Yamaha Motor USA to Win Industrial Hackathon at Meeting of the Minds Conference
Simularity won the Meeting of the Minds 2015 Industrial Hackathon with a project to attach a set of air quality sensors to city vehicles and publish results and analysis to the web. Our system provided hyper-local real time air quality information on a variety of pollution metrics and pinpoint sources of excessive CO2 emissions.
We partnered with Yamaha Motor USA, who has a prototype air quality sensor package for attaching to vehicles, called Vehicle as Probe or "VasP". Here's a demo of the project (without audio):
The hackathon project involved attaching the VasP Unit to a vehicle and driving around the target city. That data was combined with census data for the city and imported into Simularity's AI engine and user interface. For the contest we demonstrated the analytics happening in real time as vehicles with VasPs attached drove around the city.  The data and analysis was published to a public website.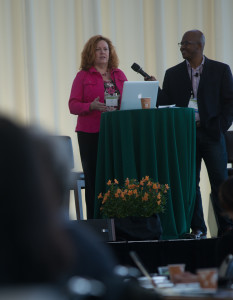 The proposal is that VasP units be attached to all city vehicles so that residents and city planners can get both real-time hyper-local access to air pollution information, and also look at trends over time, spot anomalies, and predict problems.
This proposal is more effective in terms of coverage and sensor calibration than other mobile or local air quality measurement projects in that city vehicles provide significant coverage every day throughout
the city, and all the sensors are the same, and calibrated in the same way, making comparisons and analyses more accurate.

For a deeper look at the project, here are the slides from our presentation: MotMIndustrialHackathon
Our winning project was also covered in the Contra Costa times article about the MotM conference, and in this govtech article about the project.
If you'd like to know more about this project, or how Simularity's powerful real-time artificial intelligence analytics software can help with your smart cities project, please contact us.