The 2 #IoT Trends That Are Creating The World's Next Data Explosion
As I write this I am flying over the Pacific Northwest on my way to attend the Cisco Live conference, a key event for Cisco customers and partners.
But this article isn't about Cisco or the event – it's about something bigger. In fact I feel that it's even bigger than what Cisco has recently predicted. More on the numbers in a minute.
It's about an explosion that we are about to create.
It's not the huge growth in mobile phones.
It's not the viral increase in online users for apps like Facebook, Snapchat, and Instagram.
It's not the accelerating surge in IoT connected devices that we're starting to see in 2016.
It's none of these on its own.
It's actually all of them combined.
But I'm not talking about the amount of "things". I'm talking about what all these things are going to create.
Sure they'll create events, fun, profits, interactions, insights, predictions, and more.
But most of all these devices will create data. And it will be a ton of data.
You see, Cisco recently predicted that due to the expected surge in IoT connections (50bn connected objects by 2020), we'll see a corresponding increase in data traffic. The latest estimate is the "Internet of Everything" — all of the people and things connected to the internet — will generate 507.5 zettabytes (1 zettabyte = 1 trillion gigabytes) of data by 2019, according to Cisco.
While this may be a lofty forecast on the number of devices, even half this number as predicted by McKinsey (20-30 billion devices by 2020) would generate 200-300 zettabytes.
That's a lot of data – especially if it's heading into data centers and the cloud.
But I think this prediction is way off.
A recent trip to China opened my eyes to what is going to happen.
I feel that the amount of data we're going to see coming at us is going to be at Cisco's level or even higher. It might even be higher by an order of magnitude.
There's two main reasons why I feel the data growth will be an immense explosion that we can barely contain:
The number of "devices" has been underestimated.
The quantity of data generated by the "devices" has also been underestimated.
Predicted Number of IoT Devices
First of all, let's talk number of devices. Cisco and several other leading IoT industry visionaries have estimated that we'll have 50 Billion devices connected to the internet by 2020.
Really? Is that all?
After discovering what's happening in China, I now think we all need to reconsider that estimate. Let's look at JUST China for a minute. One mobile operator in China suggested last week that they expect to have 5-10 billion devices online by 2020. From the China Daily article:
Li Yue, CEO of China Mobile, said on Wednesday that IoT will be one of its most important growth drivers as the State-owned company is transforming from a wireless operator to a digital service provider… "If everyone can link 10 items online, China will have at least 10 billion internet-enabled connections by 2020. This is a huge opportunity," Li said at the 2016 World Mobile Congress Shanghai.
"Qiao Hui, deputy general manager of China Mobile's IoT branch, said the telecom giant is expected to connect 5 billion items by 2020, which will generate 100 billion yuan in revenue."
It's not hard to envision this number if you simply look around China – everyone is on their phone and some people even have more than one phone on them. Here's picture I took at the Chengdu International Airport just a few days ago (June 27, 2016). It's hard to see anyone NOT on a mobile device. Heck even the ad poster in the background looks like it's on a tablet 🙂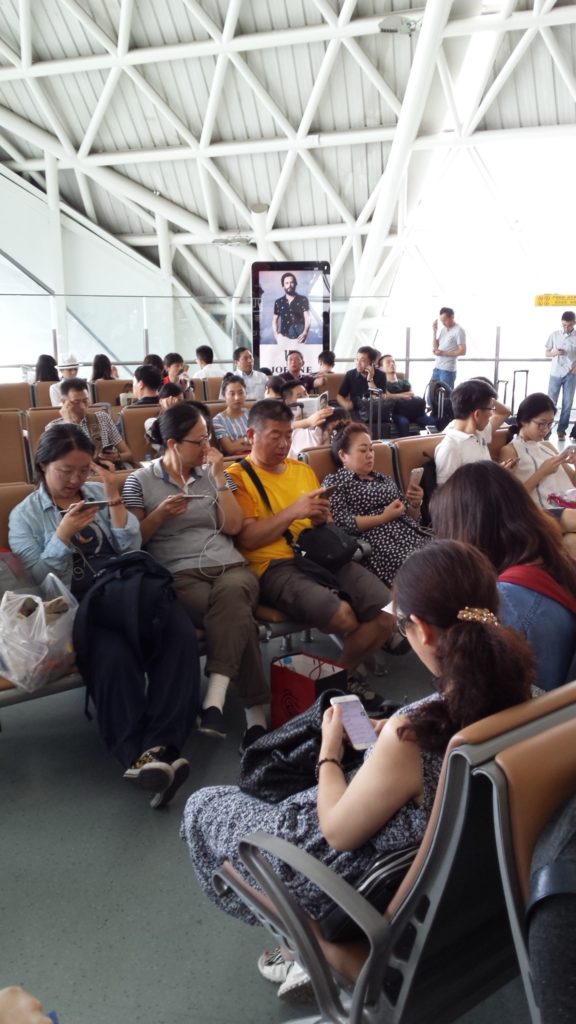 With a population of 1.4 Billion expected by 2020, I can easily imagine China will hit this number as they not only will grow the mobile penetration further but there will also be machines connected to the wireless networks and internet – environmental sensors, vehicles, production equipment, animals, smart home devices, wearable trackers, and so on.
And let's not ignore wired devices. E.g. industrial applications of connected devices – every machine is going to have a connected device monitoring its "vital signs".  These devices don't have to be connected wirelessly, either.  Many of these devices will be connected by wire, due to difficulties wireless connections face in industrial environments, such as interference created by the machinery. I think many estimates of "connected devices" are only counting wireless devices plus personal devices, and not industrial monitoring devices.
Oh and don't forget the robots – they might outnumber us and also be connected to the 'net. Like these little bots here:
I haven't even mentioned another source of IoT devices: virtual devices. Think of the gaming industry – where there are millions of users playing games at any given minute around the world. These games have devices in them – each of these devices could essentially gather data and send it "up" to be processed for various benefits to the publisher:
optimizing user retention
detecting anomalies in user behaviour and system performance
demographic segmentation for ad revenue optimization
increasing the reality of the virtual world through virtual device-device inter communication and co-operation
So that 50 Billion device estimate is soon seeming a little smaller, isn't it? I'm pegging it at 75 Billion.
In China, our company was invited to exhibit at the Chengdu International Tech Innovation Fair.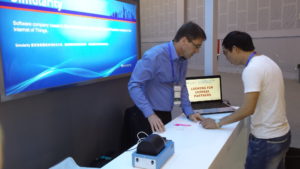 For Simularity this was an initial scouting trip and we thank the SVIEF organization for inviting us to have a taste of Chengdu and the local innovation opportunities it offers.
A plus for Chengdu is that it has pandas 🙂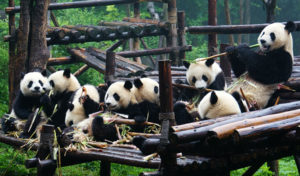 Our booth was busy with local tech contacts stopping by, investors, VC's, customers, and local government agencies eager to show us Chengdu.
I met some great people at the show – other founders and tech leaders in the IoT space.
Here are just a few of them – with devices that fit the above category of connected IoT devices.
It's clear that everything is becoming smart – from shoes to surfaces and even kids 🙂
Now for the other ingredient in the data explosion…
The quantity of data each device will produce
As Moore's Law applies to IoT devices, we'll see cheaper and more powerful sensors as each day passes. These sensors and their host devices will have the ability to generate data at a faster rate (think time series data and logs) such as every second or even millisecond. There are already chips with multiple sensors on board – such as the Freescale/NXP K64 board (part of our edge analytics demo machine) which has a 6-axis accelerometer on it.
Here's just one example of how much more data we'll see: The GeoPsi downhole oil well sensor PCP-12 has 12 sensors on it generating data every minute, vs the traditional 2 oil pump sensors which are often at the surface and only taking readings every hour. This is an increase in data volume by a factor of 360.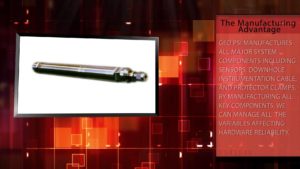 The average amount of data generated -per device- could easily be 10x more than what we're seeing today.
So if more devices than even estimated by Cisco are creating 10x more data then I suggest we have an impending "datapocalypse"
How will we handle all this data, where, and why?
Let's answer the why first – we want to analyse the data in order to get the benefits that the IoT revolution promises: real time smart decisions, optimized use of resources, lower costs, higher profits, increased safety, anomaly detection, and the holy grail of huge data: incident prediction.
Where can this be done? If it's done in the cloud or data center then we have the advantage of easier access to the results from anywhere, but at the prohibitive cost of transporting all that data in a timely manner for the analysis to have any value.
There's talk of fog/edge analytics as a solution to get the benefits at the edge, while only having to upload the critical data for further processing at the gateway, data center, and cloud.
But how can the analytics be done, when there's so much real time data? One solution angle is to have some sort of Artificial Intelligence, which can process large volumes of time series data in real time, and which can create dynamic models in less time and with more accuracy than traditional data scientist-centric methods.
A fog/edge to cloud architecture with AI that can detect anomalies and predict future incidents AND deal with billions and trillions of records is what's needed.
Luckily we know who has the solution. Talk to us today.