Simularity Invited to Finland for #ai Driven Hackathon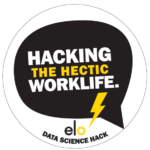 Over a year ago we posted an article about how companies need to become more "data driven". Since then we've seen an explosion in the amount of data coming at us all, and some industry experts have even gone as far as saying that every company needs to consider themselves a technology company.
The combination of these trends: i) striving to be data driven, ii) the explosion of data, and iii) the need to use technology in your business, is pushing up the demand for enterprises to get serious help with their data-driven business strategies.
There are 2 key ingredients to cracking this problem:
Having superior technology to handle massive amounts of data in order to get new strategic insights into a business' strategy, and
Having a technology consulting partner who understands how to put it all together: the tech, the people, the data, and the strategies
These 2 elements have resulted in Simularity heading to Finland in late October of this year.
Yes, some of us will be venturing North into the land of reindeer, cold dark October nights, and hot saunas.
Why Finland?
This is the home of Tieto – one of the leading IT Consulting companies in the world, with over 20,000 experts and annual revenue of over $1.5B.
Tieto understands what it takes to create data driven and Internet of Things businesses. In fact, Tieto has created a strategic formula for its clients, which through their #TietoXHub includes the hosting of innovative "Hackathons" where teams compete to use AI and Data Science in order to "hack" the data of their client, in order to create new business opportunities for them.
In this case, Simularity will be providing our highly scalable Analytics AI to the teams in a Hackathon centered on "Entrepreneur Wellness" for their client Elo – the leading pension fund insurer in Finland with over 85,000 companies as customers.
Want to join in the #elohack? Follow @simularity and @tietocorp and learn more about the Elo Hackathon here.