No one company can do everything that the IoT demands. The IoT Ecosystem benefits when we partner with other companies to create innovative solutions more rapidly.
Our Distributed Predictive Analytic AI can deliver benefits in multiple layers of the IoT Stack from the edge to the fog node and in the data center or cloud environment, as shown in the illustration below: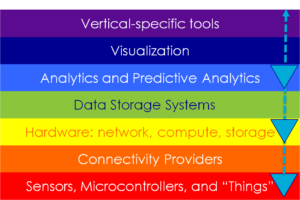 Simularity has a growing ecosystem of partners in order to provide customer solutions that can quickly fit their needs.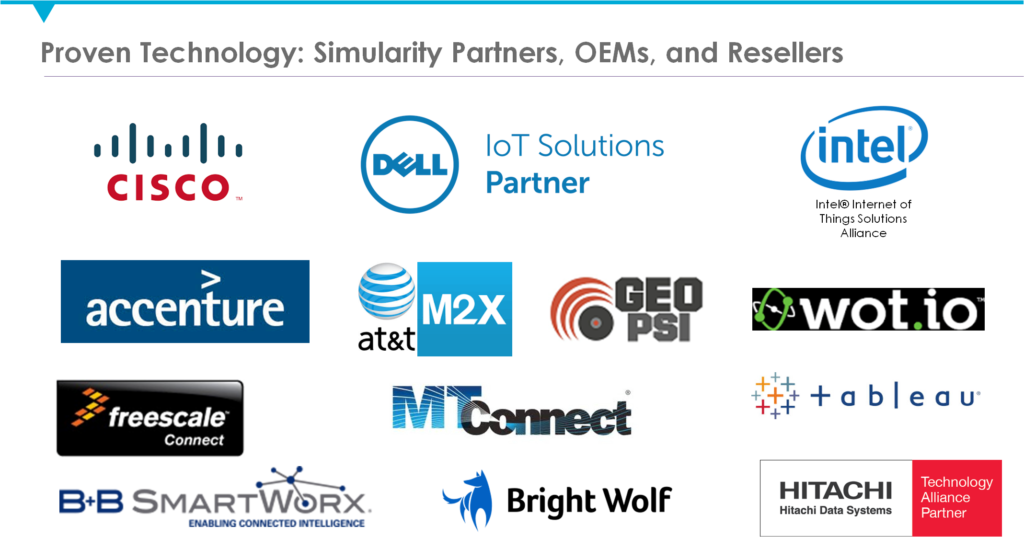 We welcome hardware and connectivity providers, data exchange service companies, consulting companies, complimentary technology providers such as visualization tools, IoT platform vendors, and service providers who wish to OEM our advanced analytics engine in order to offer services to their customers.
Marketing Partner Options
Marketing Partners benefit from increased exposure, joint pilot and production projects with customers, and added revenue streams by increasing your service offerings.
Technical Partner Relationships
We are eager to work with edge hardware vendors who are looking for high performance edge analytics on their devices. Our experience in real time embedded software can make the integration process easy.
From a data input/output perspective, Simularity's AI can ingest data from a wide variety of sources. Our REST API makes integrating into existing systems, work flows, and visualization tools easy. Here are some sources and systems that we have connectors for, and are creating more all the time:
Data Repositories
CSVs and flat files
All Relational Databases via ODBC
System logs and other semi-structured data
The Hadoop Distributed File System (HDFS)
Cassandra and other NoSQL solutions
The Hitachi Content Platform
The Hitachi Clinical Repository
APIs
Datasift
Alchemy API
Nobbi
Amazon
Facebook
Simularity IoT Ecosystem Partner Locator
Here is a list of our partners and a brief introduction for each one. We have organized them according to the "rainbow" stack above. Some partners overlap into other layers of the stack so check the whole list and visit the ones that seem appropriate for your needs.
Vertical Specific and Services
Making sense of the Industrial Internet of Things, particularly in the context of a large enterprise, can be challenging. Our technology insights are designed to explore not only what's possible, but also what is feasible.

The Bright Wolf Strandz IoT Platform is a flexible, modular, composable platform designed for change and longevity and optimized for developing industrial grade IoT applications.
Visualization
Data Storage Systems
Hardware: Network, Compute, Storage
To achieve the immense business benefits afforded by the IoT, you need a highly robust and secure network infrastructure. Cisco can help you converge unrelated networks, scale to meet increasing traffic demands, employ advanced data analytics, and inspire a new class of intelligent applications-to increase productivity without sacrificing security. .
Connectivity Providers
AT&T M2X provides time-series data storage, device management, message brokering, event triggering, alarming, geo-fencing, and data visualization for your industrial Internet of Things (IOT) products and services.
Sensors, Microcontrollers, and "Things"
Next Steps to Join the Simularity Partner Program
Our partner program application process is simple and starts with a conversation about your IoT offering, your customers, and how we can help you grow your IoT business faster through partnership.
We'll also tell you a little about what we do, and how our advanced Predictive Analytic AI can help your customers in a wide range of verticals, with little technical effort needed, and in rapid time.
We don't have a long and complicated process – we just want to know there's a fit and that we can help you.
Interested in becoming a partner? Contact Us today to start the discussion.