We created Simularity with Electronic Healthcare Records (EHRs) in mind so support is built-in. We're working with hospitals and schools of medicine to improve patient outcomes, increase efficiency, reduce costs, and advance the science of medicine.
Collaboration with Hitachi Data Systems
Simularity collaborated with Elmar Flamme, an industry leader in Healthcare IT at a large European hospital, to integrate Simularity's High Performance Correlation Engine with the Hitachi Clinical Repository, a vendor-neutral meta-data archive that supports healthcare data in hundreds of formats.
System architecture: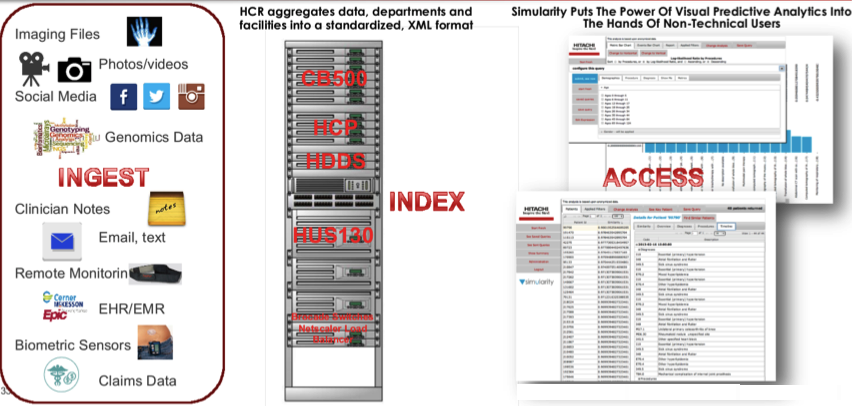 Simularity's predictive analytics using meta-data from HCR: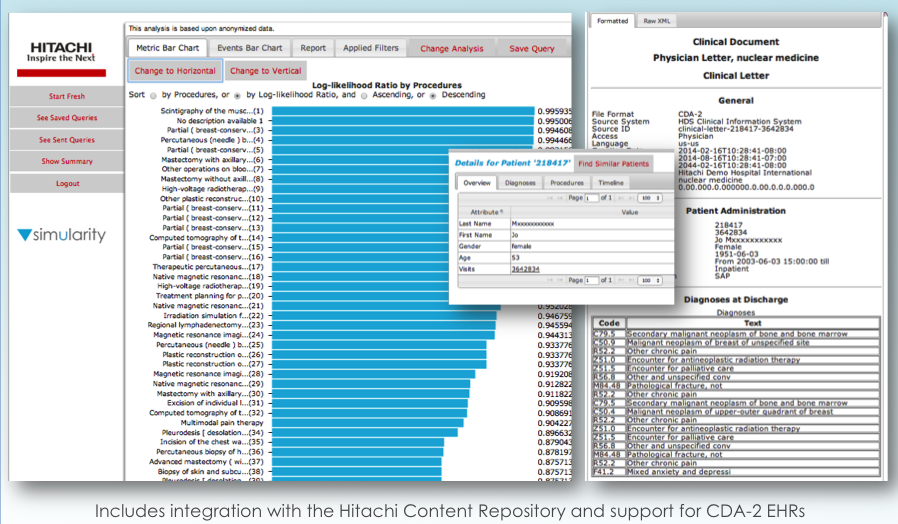 With Simularity's Technology, You Can:
Use all the data you have on your patients for risk scoring and patient similarity analysis, in real time
Combine genotypes with clinical data for precision medicine
Improve outcomes by reducing readmissions, hospital acquired infections, falls, and errors in medications and care
Improve efficiency by tracking resource usage, costs, and payments
Monitor processes in real time for compliance with standards of care
Predict usage to optimize staffing and supplies
Monitor all sensor data for patients and predict possible adverse events in real time
Reveal fresh insights about adverse events hidden in your data
Simularity's correlation calculations are based on statistical probabilities, such as p-values. Our Correlation Explorer lets you perform ad-hoc correlation analysis for deeper dives into your data and our web services layer allows for interactive data exploration on your web-based apps making real-time access to the data in the doctor's office possible.
Predictive Archetypes For Risk Scoring
Our Predictive Archetypes allow you to identify a group of patients with a simple point and click interface, see what characteristics are over-expressed in the target group vs. the general population of patients, and score other patients on their probability of belonging to the group.
Below are some sample predictive archetypes using data from the Nationwide Emergency Department Sample (NEDS), Healthcare Cost and Utilization Project (HCUP), Agency for Healthcare Research and Quality.