Congrats to the team and special thanks to Kartik Shah, our Product Manager, for being selected as a finalist in the pitch competition at the Silicon Valley Innovation & Entrepreneurship Forum Pitch event for 2018, held at the Santa Clara Convention Center on March 30, 2018.
Here's a picture of our happy Kartik, with our prize. Simularity was one of just 18 Science and Technology finalist companies that were selected for the 2nd Shenzhen Innovation & Entrepreneurship International Competition in Shenzhen, China.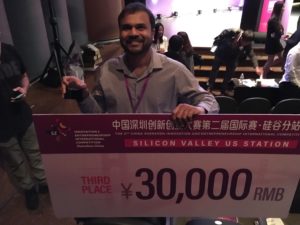 The product that was pitched was our Automated Image Anomaly Detection System. Contact Us for details.