Automated anomaly detection in daily satellite images delivers timely alerts for monitoring remote locations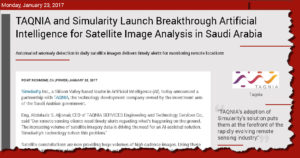 Today we announced this partnership with TAQNIA, the technology development company owned by the investment arm of the Saudi Arabian government.
Simularity AI-ADS can benefit defense, municipalities, the environment, and also private enterprises, by creating valuable intelligence through the application of advanced AI-driven analytics to satellite data.
Contact us today for more information and to explore how AI-ADS can benefit you.